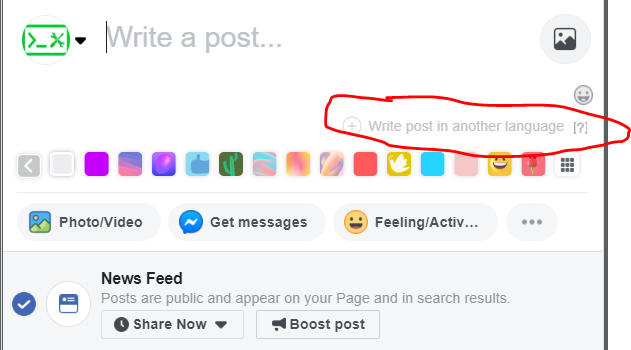 November
Week 1 – HTTP Secure
Did you know in 2017 Google announced their plan to make the internet more secure by using HTTPS? HTTP (Hyper Text Transfer Protocol) is the protocol controlling all data transfer between your browser and the website that you are visiting. HTTPS (Hyper Text Transfer Protocol Secure) is the secure version of HTTP. It means all data transfer between your browser and the website are encrypted or protected. It encrypts the connection between your browser and the website so that others can't hack or intercept the connection when you are, for example, using a public WiFi.

You can check if you are using HTTPS, by going to your website address and see if there is a lock symbol. If you don't have it, you need a SSL certificate for your website. The SSL certificate makes it possible to identify your website as secure, like a passport. All big web hotels/hosting should already give you SSL certificate for free. If not, ask them and the price shouldn't be more than 500-700 SEK per year.

HTTPS is encouraged by Google and rewards websites using it with better SEO ranking.
Week 2 – Website Content
Did you know that you should not only care about keywords, but also the content, format and length?
Google care about if your website has information that is relevant for the visitors. It shouldn't contain useless information and you need to update your information regularly. Otherwise, Google will think your website is dead. Formatting is also important. Your text should have headings, subheadings and short paragraphs. Without formatting, visitors would leave immediately. The text length is also important, your text can't be too short or too long. Google may like longer texts, but the visitors don't. So the recommended amount is around 300-600 words.
Week 3 – Text Length
With more people using smaller screens, like their phone, to browse websites, it makes sense to write shorter texts. And since people's attention span is shorter as well, texts should be shorter. However, in reality people share more (Average 8000+ shares) when the text is more than 3,000 words. One of the reasons is that your text would contain all the information about the topic. So people would come to your text to learn everything about the topic.
Week 4 – GDPR
GDPR applies to EVERY business in Europe. As a small business, you are still obliged to comply with GDPR and disclose your compliance on your website. Otherwise, you have face fines up to a percentage of your income.
December
Week 1 – Is your email and passwords safe?
Many people use the same email and password for everything. Including their bank login. It is recommended to have different password for different website. It is more important to have longer passwords than complex ones. You can check if your email has been compromised here. If you have, then you need to change your passwords on those websites.
Week 2 – SEO isn't just about keywords
Keywords is just a part of SEO. How your website is structured, maintained and such is as important. If your website has a high spam score, then you will be punished by Google in rankings. If your website has low Domain and Page Authority (Rating), then your website is less likely to be on the first page results.
Week 3 – Cross linking is important
The internet is huge. You need to build up a digital network via cross linking to get noticed. Cross linking will also increase your Domain and Page Authority (Rating). More inbound and outbound links will make your website more trustworthy.
January
Week 1 – Share on social media
Social media is a powerful tool to grow your website. Shares, likes and comments could increase your ranking. As well as, your website will get more traffic. But, it is important to know when and how to post to maximize the impact.
Week 2 – Translate your Facebook Posts

Facebook automatically translates your post. However, you can add a manual translation by going in "Settings" of your Facebook page and turn on "Post in multiple languages". Next time you write a post, on the bottom right corner, you can add a translation.
Week 3 – Have you been punished by Google?
Google updates a lot and very frequently. Each update can have major changes that could decrease your website's ranking. You need to read every Google update to stay ahead. For example, Google is punishing websites that don't use HTTPS.
Week 4 – Have unique and high quality pictures
Pictures can attract visitors and get them to stay longer on your website. However, bad quality and small pictures can push visitors away. You need to have large high quality pictures, so no matter the screen size, it would look good.
February 
Week 2 – Maintain your website
Update your website with new information and pictures. No one likes a website that looks abandoned. Without maintenance, you will lose ranking and visitors. Most importantly, it is for the security of your website. Otherwise, hackers can easily gain access to your website and even customer information.
Week 3 – An email and telephone number is not enough
Make sure your contact information is recent so potential customers can reach you. Have multiple channels for customers to reach you. Nowadays, customers except to reach you in many ways, and you need to respond fast. Email and telephone is considered slow, more prefer social media.
Week 4 – Alt field for pictures
Since Google can't see your pictures, you need to describe them instead. The Alt field is used by Google to "see" your pictures. Therefore, it is important to include keywords and correct description.
March
Week 1 – Sitemap
A sitemap is a map of your website. Visitors use it to find what they are looking for more easily. Google uses sitemap to crawl through your website to discover the structure and layout. As well as to register any changes made. Therefore, it is important to include every page in the sitemap.
Week 2- Google MyBusiness Address
You need a physical address for Google to mail a postcard to you. However, if you don't have a shop or goes to your clients, then you can clear your address after verification. Google will then base your location on your address area and areas you define.
Week 3 – Weird URLs in Google Analytics
You might have seen "/" or "/fbid=?" in your Google Analytics. "/" just means your front page. "/fbid=?" means the visitor comes from Facebook. "Fbid" is Facebook's tracking URL. In fact, any URL with "id" in it most likely means the visitor is from social media.
Week 4 – Website loading Speed
Does your website load fast? Most visitors except a maximum 2 second loading speed for a website. Any longer, they will leave. But your loading speed depends on a lot of factors. It could be your hosting provider, your website's code, amount of pictures and text, and structure of your website.
April
Week 1 – Black hat vs White hat
Have you wondered why and how could some ads claim they could get you in the top 10 Google results? That's because they are using Black hat methods. A Black hat is cheating Google to get fast but unstable results. For example, they would use link farms to back link to your site so your site would temporarily get a boost in ranking. If Google finds out, your site will be blacklisted. A White hat is playing by the rules to achieve long lasting results. It takes time, but they are not cheating.
Week 2 – Search Engines
A search engine is more than just Google. Bing, Yahoo, Youtube and such are all search engines. Many associate the term search engine with Google, because Google is the world's number 1 search engine and it owns world's number 1 video search engine, Youtube.
Week 3 – Reviews matters a lot
Encourage your customers to leave a review on Google and Facebook. These reviews are beneficial for your ranking. However, customers are more likely to leave a review if they had a bad experience. So you need to encourage customers with a positive experience to leave reviews too.
Week 4- Remove Spam comments
Spam hurts how trustworthy your site is and your ranking. Be active and remove spam comments and reply to real ones.